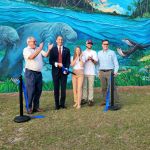 Crystal River is a critical link of the Florida Wildlife Corridor, which supports a unique ecosystem, that plays a significant ecological role within the Corridor. How the county grows will determine the fate of wildlife, clean waters, and the natural beauty locals take pride in.
Chosen as the FIRST mural in their statewide project, the Crystal River Mural brings awareness to greater connectedness of what locals already treasure and empowers visitors and community members alike to expand their Corridor Pride. The mural builds upon the 2021 teen expedition from Rainbow Springs to Homosassa Bay, where three local High School students experienced wild Florida in their backyard. The mural is designed to inform viewers about the Corridor and inspire the continued protection of some of the most at-risk land in Florida.
Swing by the mural, located on 5th Avenue, as you stroll through the festival and meet the artist, Kelly Quinn – Canvas of the Wild, and representatives of The Florida Wildlife Corridor to learn more about their project and the integral role Crystal River plays in Florida's ecosystem.